NoSpamProxy 13.1 Regulärer Kanal/Regular Channel
We have released the Version 13.1.19330.1217 on December 04th, 2019. This version is an upgrade release where the following bugs are fixed and new features are added or changed.
Important Information
As of update Version 12.2.18253.1152, a script for cleaning up the message tracking is included, which deletes orphaned entries in the database. From version 13.0.19169.1943, a script for improving table indexes was added.
HINWEIS: These scrpits may cause the setup not to respond for some time during database update. The setup must not be aborted and must run until completed. Make sure to schedule a longer upgrade period for this.
If the Protection module is licensed, it is possible that the Cyren services do not work and no viruses and spam checks are performed after the update to version 13, although the NoSpamProxy license itself has been correctly validated.
To correct this, go to Configuration > NoSpamProxy Components > Gateway Roles, select the gateway role(s) and click Synchronize configuration.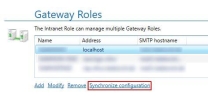 In combination with some domain names the reputation filter may block emails due to an obfuscated owned domain. Only in this case we recommend to reduce the SCL Points to maximum 2 SCL Points (Default is 4 SCL Points) for the test Header-From' is an owned Domain at the Reputation filter, to be found on the tab Filters in the applied rule, on tab 'Header-From' Tests. This will be improved within the next major version.
BEISPIEL:  Owned Domain = example.com, but the Reputation filter will also detect my-example.com as an obfuscated owned Domain.
Version 13.1.19330.1217 (December 04th, 2019)
includes changes and bug fixes from Regular Channel Version 13.1.19274.1138, listed below.
New / Changed
An issue is shown if DNS is blocked by Spam URI Realtime Blocklists (For description see Knowledge Base Articles in German or English)
Fixed
DER encoding rule for SETs used in Signed Attributes is wrong
Wrong results from email address filter
SPF PTR resolution doesn't match subdomains
Secondary DNS server is not used to resolve hostnames if the primary DNS server doesn't respond
ZIP archive accepted if a single file inside is allowed
Header-From address without domain causes NullReferenceException in Reputation filter
All headers are removed if the email body only consists of a winmail.dat
URL in PDF is not extracted correctly
Values of DKIM-Signature header are not sanitized before validating the signature
Installer doesn't set permissions for Cyren URL classification service on ProgramData\Cyren folder
CryptographicOperationInfos is not thread-safe
Outlook Addin is uploading everything to the Web Portal
Wrong position of disclaimer if plain text email body contains dashes
Base64 decoding error if the encoded content is wrapped in a certain way
Content disarm for an email on hold failed: Length cannot be less than zero
All email servers are allowed to send emails with owned domains if "Password authenticated" corporate email server is configured
Email with obfuscated domain is blocked by HeaderFromExternalObfuscatedSubstringValidation
Gateway Role crashes when O365 Tenant is wrong
User password settings are not visible if LargeFiles is licensed without encryption
An unhandled error occurred during the malware scan
Link for the ReportViewer has changed on the Microsoft Website
No validation of input data in DNS routing restriction dialog
Intranet Role crashes when completing certificate enrolment requests: System.AccessViolationException
digiSeal: Object reference not set to an instance of an object
Behaviour of saving the settings for reputation filter is not consistent
"n/a" in S/MIME action validation
Heimdall not always shown in validation tab
Could not load rule configuration from Gateway Role
Info in message track url safeguard if url detection is disabled
Unclear description of search filter in message tracking
Version 13.1.19274.1138 (October 11th, 2019)
includes changes and bug fixes from Fast Channel Version 13.0.19241.1237, listed below.
New / Changed
Minimum requirement for Outlook Add-In is now Office 2010
SMTP Auth support in Corporate E-Mail-Server
New Sender reputation checks
Add "Received-content-MIC"-Header to AS2 recipient
Add TLS Organizational Domain as Greylisting key if available
An issue is displayed, if an UNC path is used for Large Files storage
Content filter handling for password protected ZIP archives
Notify admin and not save logs if disk out of space
New supported file types
Apply content filter rules in EML attachments
Add "Received Header" in Queue mode
Level of Trust improvements
Limit emails to 100 recipients
Extend Spam URI Realtime Blocklists Filter to check links in pdf documents
Remove Protected Sky RBL immediately
Display URL in MessageTracking Details when it was classified as malware by CYREN URL Reputation
Fixed
The migration of your old message tracking data failed. Error: Must declare the table variable "@Urls"
Gatewayrole crashes
Header with multiple encoded words next to each other is not parsed correctly
Download of a large file via the MMC is aborted after 30 seconds
If multiple HTML body mime parts are converted to attachments and renamed as part of the email mitigation the filename has the wrong extension *.txt
Wrong translation in Partner settings
Enhance Obfuscated email check in Reputation Filter