Overview of the functions
NOTE: If you install the Outlook Add-in via MSI file, this file must be located on a local hard disk. Installation via a UNC path is not possible.
Functions of the Outlook Add-In when composing emails
Automatic Encryption

Enables the delivery of encrypted emails to recipients who do not have cryptographic keys in their possession. NoSpamProxy Encryption automatically selects the appropriate delivery method nd delivers the email securely.

PDF Mail

Converts the email content with all attachments into a PDF document and secures this document with a password. This allows you to securely deliver emails with all attachments even to recipients without cryptographic keys.

S/MIME or PGP

Allows the signature and encryption of emails using cryptographic keys such as PGP key pairs or S/MIME certificates.

Large Files

Transfers large files via the NoSpamProxy Web Portal. Instead of the file, a link is attached to the email, with the help of which the recipient(s) of the email can download the files secured by SSL. The link can be protected by a password.

De-Mail

Displays all the delivery options available to you for De-Mail delivery.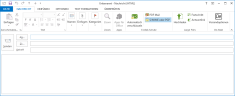 NOTE: You will find the above-mentioned functions in the menu ribbon of a new message in the three areas Email protection, De-Mail and Large Files.
Functions of the Outlook Add-In when reading emails
Decrypting PDF attachments

Decrypts password-protected PDF attachments and removes passwords.

Deleting passwords

Deletes previously saved PDF decryption passwords.
NOTE: The PDF decryption functions become active when you select or open an e-mail with one or more PDF attachments.