Partners
Partners are external communication partners with whom you exchange emails. Settings for partners can be made on the respective partners, the associated partner domain or the respective email address of the partner. The list of partners is grouped according to the respective domains.
NOTE: The settings on an email address take precedence over the settings on a domain. Likewise, the settings on a domain have priority over the settings for all partners.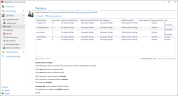 Automatic removal of partners
Partners are automatically removed when the Level of Trust value of the respective domain has dropped to 0 and the partner does not have any other properties that prevent this, such as stored users, passwords or certificates.
Related steps
Determining the default behaviour You configure the basic behaviour for trusted and untrusted emails under Default partner settings.
Adding a new partner domain To create a domain for a partner, create it in NoSpamProxy. See Adding partner domains.
Adding users Add new users of a domain to the corresponding domain as a user entry. See Adding user entries to partner domains.